About Us - Zip Chicago Canopy Tours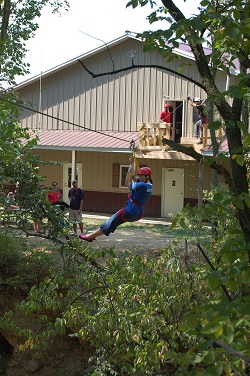 Zip Chicago Canopy Tours is proud to have reached an agreement with The Cliffs Off Road Park to open this world class tour for adventure seekers. This is one of the highest, longest, tours in Illinois and Wisconsin. Come join in the fun and see what zipping is all about.
Our name "Zip Chicago" is used for recognition of the greater Chicago area, however, technically, we are located in Marseilles, Illinois. We hope that our name doesn't cause you any confusion.
We are part of a larger network of canopy tours owned, operated, or licensed by parent company Experience Based Learning, Inc. (EBL). EBL is the largest installer and operator of tours in the United States. We are proud to be the only licensed tour in Illinois as the requirements for training, operation, and safety are more stringent than other tours. This makes being an EBL licensed and operated tour a special achievement.
Further, we operate to or surpass the ANSI Accredited Standards Developer Professional Ropes Course Association (PRCA) safety standards for Canopy Zip Line Tours. More information may be found at www.PRCAinfo.org